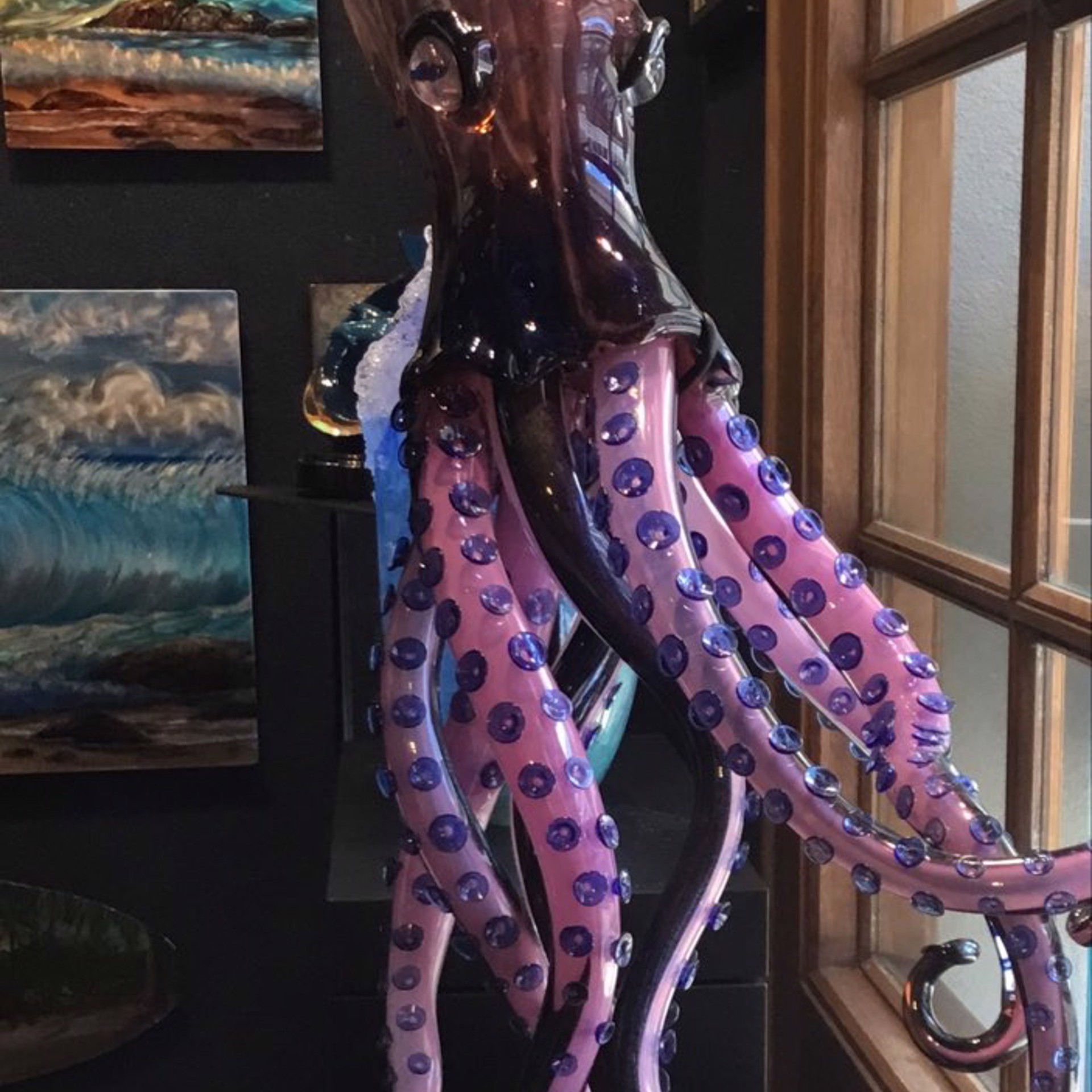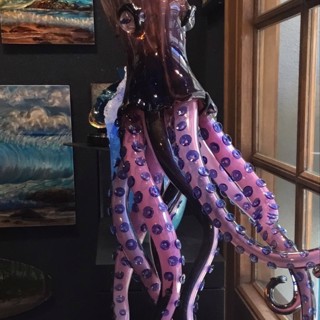 Charles Lowrie was born in Pine Valley, Oregon. One generation off the farm he has inherent connection with the land and spirit. At an early age he and his grandfather would venture out along the majestic McKenzie River [Willamette Valley Oregon]. Submersed in stories of canoe adventures and great hunts, Lowrie developed a great respect of the nurturing and destructive power of the Earth. Balance has since become his guiding force in a world of extremes. In his youth, through the outlet of expression in music, written word and drawing, he began to embody this balance.
He began his collegiate studies in Jazz performance, musical composition and music theory. In his process he became fascinated in the resonant qualities of glass. The infatuation with the harmonic tones of glass led to a lifetime love affair. He began a scientific glass apprenticeship under master James Windsler, where he learned to repair and recreate various glass lab apparatus. One year later drew his first molten glob from a small crucible housed on the edge of the Pacific Ocean, in Oregon's oldest private glass studio, The Alder House, [Master, Buzz Williams].
His undeniable destiny blessed to express with this material began the search for the quintessential master of glass. Over the next twelve years he would travel the world discovering his new glass family. Working in studios too numerous to list and gaining knowledge of technique and self. In the Winter of 1997 he arrived at Pilchuck [Stanwood, WA] in the foothills of the San Juan Islands where he began to assist in process with Masters Karen Willenbrink Johnson, Randy Walker and Rick Allen. Pushing his inspiration and proficiency.
An exhibition in Hawaii with friend and collaborator Daniel Moe led Lowrie to a ten month artist-in- residence at The Live Arts Center [Big Island, HI].
In 1998 he had an opportunity to meet and assist Maestro Pino Signoretto. Thus placing another piece in the puzzle of destiny. In this moment he realized this as the beginning. Now free of awkwardness with glass, Lowrie was perfectly poised to absorb and assist in any magnificent dream the great Italian sculptor possessed. Over the next five years, for countless hours, Lowrie worked alongside Maestro Signoretto, designers and artists living a tradition of master to apprentice rarely experienced in our generation. He worked his way up the totem, becoming a integral part in the mechanics and dance of creating masterpieces. The Venetian heritage forever locked in his soul and expression. He has since returned to the U.S.A. and now creates his sacred expressions in Oregon, Hawaii and his minds eye.
Read More